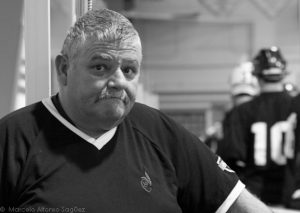 On July 2, the Calgary lacrosse community lost one of its most dedicated and important volunteers John Durand.
John has been involved in lacrosse since the mid-1970s when he started to play as a midget. He was later one of the original members of the Calgary JrB Mountaineers. After graduating from junior, John played for the SrB Mountaineers. A highlight was winning the President's Cup as Canadian SrB champions in 1983.
Even before he had retired from playing, John also refereed. He reffed minor, junior, and senior and even attended a couple of President's Cups. As he got older, like many players, he moved to Master's. John reffed masters lacrosse right up to 2019.
John was also an active builder in lacrosse at both the club level and the ALA. For the last several years, he ran the timeclock for the JrB and JrA Mountaineers and even did the same job at the 2018 Minto Cup.
Our condolences to his wife Tracy, daughters Shannon, Katelan, and Jamie, and five grandchildren.